ACTIVITIES
Nearby Ababi
Around the house you can enjoy the peace and quiet, the garden and the surrounding nature. But in Ababi and the surrounding area there are also lots of things to do.
You can take a walk, with or without Gede as your guide. Gede is born and bred in Ababi. He can show you things you would otherwise pass, because you don't always know what to look for. He has studied biology and can tell about the medicinal and culinary use and the danger of plants, trees and fruits whic you encounter on your way.
He will gladly take you his mother's house in Ababi, so you can see how a Balinese compound is built with all sorts of small buildings and their specific functions. And you can take a look in a Balinese kitchen. Gede's mother will welcome you warmly and you cannot leave her place without having some tea or coffee first, all according to Indonesian custom.
| | |
| --- | --- |
| | |
The walks will take you through the village, across the ricefields, through bamboo-forests, over hills and bathing through small creeks in the valleys. On your way you will pass a public, open-air bath, where people do their laundry, take a bath, bath the cow and fill up a bucket of fresh spring water to bring to the house. You can visit warungs: small and simple stalls where people sell all sorts of things, like flip-flops, detergent, bra's, buckets etc. You can also visit a small primary school in Ababi, where both children and teachers will welcome you with great enthousiasm. You can take a look at a woodcarving-workshop and closely watch the farmers work in their ricefields. In short: walking with Gede is a unique experience and a treat to yourself !
And to continue our story: You can shop at the colorful and fragrant local marketplace, attend Balinese ceremonies, learn how to make offerings, attend a Balinese dance or wayang-puppet-show, visit Gede's family or get a relaxing massage from the local masseur.
| | |
| --- | --- |
| | Nearby Ababi lies the touristic village Tirtagangga which is known for it's royal waterpalace. Here you will find two swimming-pools open to the public to use. In Tirtagangga are also some warungs (small eating-stalls) and some souvenir-shops. |
If you are interested in visting a local school or local hospital, we can take you there. And a ride with Balinese public transport is a must, if only once in your lifetime!
If you still have plenty of energy left: climbing vulcano Gunung Agung (3100 m) is an ultimate challenge. And on top is the ultimate reward: a magnificent sunrise and view over Bali and Lombok !

Tours over Bali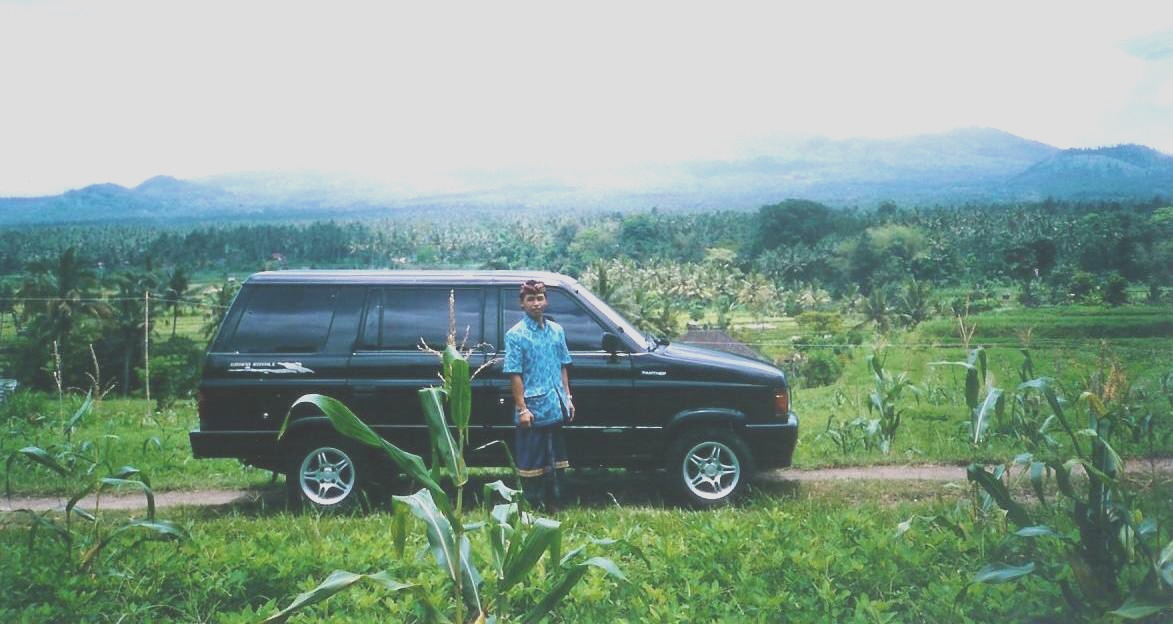 We also organize tours across Bali, to show you the rest of it's overwhelming beauty. We take you all across the island in a luxury car with airco. Gede is an experienced driver, who knows the hotspots and can tell you catching stories about his homeland.
Bali is a small island, nevertheless it offers a large variety of sightseeing and activities depending on the district you visit.
South-Bali is filled with touristic places, many hotels, resorts, restaurants and shops. It is nice to have lunch on the beach of Sanur, stroll on the boulevard of Kuta or shop in the many shops or tourist-markets. South-Bali also hosts the capital city of Bali: Denpasar.
West-Bali contains National Park Bali Barat. You can take a walk through this jungle, guided by a trained parkguide, and choose from a walk from 2 hours to a walk of 7 hours (or more). Nature is splendid here, with huge old jungle-trees, little streams running through valleys and mangrove-trees. The Park is also home to a massive variety of birds and animals.
North-Bali is known for the cities Lovina and Singaraja. Lovina is a tourist-place, from which you can take a boat-trip in the early morning, which will bring you eye to eye with dolphins. Singaraja is the former capital city of Bali. Here the ships of the Dutch sailed into the harbour with merchandise and passengers on board of the ship; you can still see the remains of this colonial time.
| | |
| --- | --- |
| | East-Bali is home to the holy mountain Gunung Agung with it's great mother-temple Besakih. Also Batur-vulcano is situated on East-Bali with at it's feet a wonderful stretched lake. You can make a boat-trip from here. You can also visit some traditional villages, like Tenganan, known for it's double-ikat-weaving. |
In Central Bali Ubud is the main village. Ubud is known as home to a lot of artists and is very touristic. Here you can buy your necessary souvenirs or attend one of the many dance-shows which are to be seen in Ubud. Around Ubud you will find many small villages. Each of them has it's own craftsmanship: beautiful woodcarving, sculptures or bamboo-furniture. You can also see silver- and gold-smiths at work. Mostly people have a little shop next to their workshop, with products for sale.
And Bali has much much more to offer. For example Bali has thousands of temples, some of which are unique by their architecture or location. During your tour you can also enjoy the sloping terraced paddy feilds, the breathtaking coast and deep valleys. And absorb the amazing village- and streetlife. Don't be surprised if we end up in a ceremonial flow of people.
| | |
| --- | --- |
| | For people who seek more action: Bali is an island and therefore surrounded by sea, which offers many opportunities for surfing, diving and snorkeling. Rafting is also an option as well as para-sailing or you can visit an adventure-parc. |
We can discuss a tour that you like or you can choose from the tours we already have selected for you, which contains many sightseeings on Bali. Be aware to count a whole day for longer trips, because Bali may be a small island, but it's roads and traffic may be different from what you are used to. With a relaxed attitude and an open mind there is no doubt you will enjoy Bali to the full !